Meet Our Collision Repair Specialists
Our team specializes in many different types of vehicles, and since they work on a wider variety of vehicles than their counterparts, their overall expertise is greater, too. By working on all automobiles, trucks, and recreational vehicles, our specialists can be trusted to properly diagnose challenging repairs. As automotive technology advances, our team is continually updating their education & skills.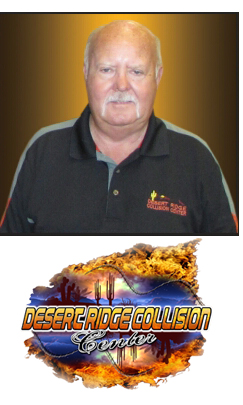 John Rutherford
John Rutherford's 40 year history began in 1965 as he was raised in his family owned collision center in Southern California. John has been certified through ICAR & ASE, adding to his lengthy knowledge of the auto repair industry. John's desire is to treat everyone respectfully ``just like family`` and to repair their cars ``like it never even happened``. This dedication to the collision repair industry is the cornerstone of the mission at Desert Ridge Collision Center.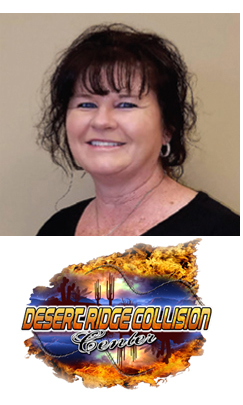 Sherry Novian
Sherry Novian began her career in the collision repair industry in 1981 with the Auto Club of So. Cal. advancing from administration to appraiser in a few short years. She was ranked #1 of the Top Ten Physical Damage Appraisers for 2 consecutive years for a 100% CSI. Her contribution of knowledge, integrity, and the desire to have a common connection with her customers, using her ``back to basics, personal`` approach ensures your experience will be one of satisfaction and ease.
Our
Services
Below are some of the repair services we offer:
Professional RV Repairs
Color Matching Specialists
Auto Repairs/Painting
Truck Repairs/Painting
Graphic Reproduction
Indoor Climate-Controlled Facility
Relax
We'll fix it
Your Authorized Repair Facility for all Major Insurance Companies
Call: 1-928-754-3562
CONTACT US